Fire at Hove British Engineerium museum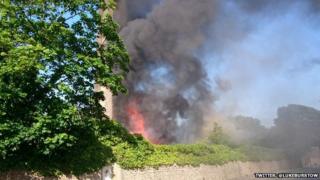 Investigations are under way into two fires which broke out in Brighton and Hove within minutes of each other.
One was at the British Engineerium, an engineering and steam power museum in Hove, which was not open as it is undergoing restoration work.
The other was in the roof of a three storey building containing flats and a shop in Gloucester Road, Brighton.
No-one was hurt in either fire which fire crews were called to at about 17:40 BST.
A spokesman for East Sussex Fire and Rescue Service said the fire at the museum started in a portable building on the site, which then affected an adjacent tower and part of the museum.
It is not known if the museum has suffered any significant damage.