Brighton i360: 'Tallest tower' steel cans delivered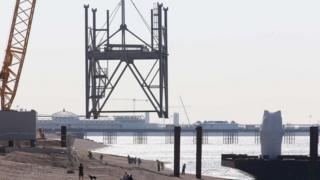 Barges have begun delivering steel tubes to Brighton beach as part of the construction of what will be England's tallest viewing tower outside London.
The sections of tubing, described by the architects as "cans", are being used to build the 162m (531ft) tower, which is due to open next year.
The i360 has been designed by the team behind the London Eye.
Architect David Marks said the tower would be made up of 17 cans stacked on top of each other.
He said each part was just under four metres (13ft) wide, and the "incredibly slender" tower will be 40 times higher than it is wide.
Each of the cans will be secured with 112 bolts between each layer.
'Vertical factory'
"At the end of the summer, we'll disassemble the jacking frame and we'll be left with the tower," Mr Marks said.
"At that point we can start to build the pod around it and the rest of the building and everything else and we look forward to opening it next summer."
The observation pod will be built at a height of 138m (452ft).
Developers hope the tower will attract at least 700,000 visitors per year, making it the city's most popular paid-for attraction.