Amberley cottage death fire 'caused by smoking'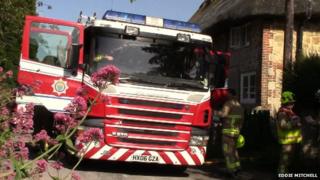 Smoking is believed to be the cause of a fire that killed an elderly woman in West Sussex, investigators have said.
The woman in her 70s was found dead in a smoke-logged living room after a fire broke out in her thatched cottage in Amberley.
Crews were alerted to the blaze on Friday by an automatic alarm call.
West Sussex Fire and Rescue Service officer Lee Spencer-Smith said it was thought that the fire was started accidentally by smoking materials.
He said smoking was still the biggest cause of death in accidental house fires in West Sussex and nationally.