Shoreham Airport hosts first festival for 70,000 music fans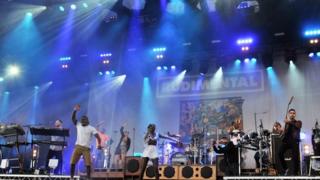 Tens of thousands of music fans are arriving in Shoreham for the biggest festival ever held in Sussex.
Artists including Disclosure, George Ezra, Rudimental, Mark Ronson and Soul II Soul will perform at the first Wild Life Festival at Brighton City Airport.
Crowds of up to 35,000 are expected on both Saturday and Sunday but there is no camping on the site.
Local people fear traffic congestion and unauthorised camping but organisers say the event will go smoothly.
Joss Loader, chair of Shoreham Beach Residents Association, said people were not against the festival in principle and hoped it would boost local traders' business.
But she said they were concerned about its impact on the town.
"There is one way on and one way off the site and the entrance and exit is slap bang opposite the entrance to the airport," she said.
"Congestion is a very big issue and although they are providing on-site free parking it is inevitable that people will park on the beach.
"People are going to have to sleep somewhere.
"The beach on a good summer's night is a nice place to camp and there are very real concerns that people will fly camp."
Organiser SJM Concerts said it was looking forward to welcoming 35,000 "very excited youngsters".
"We are doing everything we can to minimise disruption to people in the area," said director Rob Ballantine.
"People are excited by the idea of a day out and a night out.
"This is for local people who have a home to go back to.
"I don't think there will be camping on the beach."
Sussex Police said it expected some travel disruption but urged people to be patient, follow signage and heed the advice of stewards and police officers.