New Hastings Council leader vows to continue work of Jeremy Birch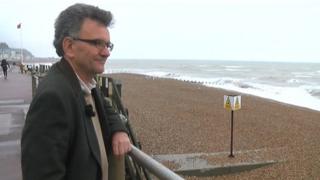 The new leader of Hastings Borough Council has vowed to continue the work of his "great friend" and former boss who died suddenly.
Councillor Peter Chowney has been elected as the new leader following the death of Jeremy Birch in May.
He said he would carry on in the vein Mr Birch started but that it was a "terrible way to become leader".
The programme for the next two years had been agreed but there may be a slight change of emphasis, he said.
Jeremy Birch had been a member of the council since 1998 and led it for 13 years over two separate periods before he died after suffering a stroke at the age of 63.
Mr Chowney said: "One of the last conversations I had with Jeremy before he died was how much more we could do on environmental and green issues so I certainly want to take that forward."
He said he also wanted to look at how the Labour-run council could raise income "in an entrepreneurial way... given the money we get from government will probably be cut back even further".