Sussex Police defends 'victim-blaming' campaign poster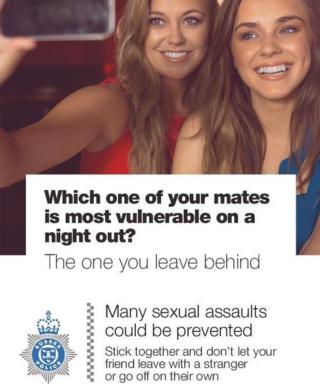 A police force has defended an anti-sexual violence campaign after it was criticised for "victim-blaming".
Posters, published by Sussex Police, feature a picture of two young women and a message urging friends to "stick together" on nights out.
Campaigners said the image reinforced a message that victims, not attackers, were to blame in sexual assault cases.
The force said it wanted to raise awareness and encourage intervention where people were vulnerable to attack.
Women's rights campaigner Celia Wilson said the campaign should focus on the behaviour of perpetrators.
'Upset to victims'
"We still live in a world where women get told that they can't walk home on their own but men are absolutely fine to do so," she said.
While on Twitter, Daisy Cooper wrote: "Will you join me in demanding @sussex_police apologise &withdraw victim-blaming poster?"
Jessica Ellery tweeted: "Rubbish poster from Sussex Police. Potentially v upsetting to victims of assault and their friends."
Ch Insp Katy Woolford said the force wanted to raise awareness that vulnerable people could be targeted.
"What we're asking is for people who go out - and this particular campaign is focusing on friends - to stick together and make sure that they're safe at the end of the night," she said.
The force has described the campaign as an "innovative approach" that highlighting how people can intervene, compared with previous campaigns focusing on consent.