Sussex winemakers launch bid for protected name status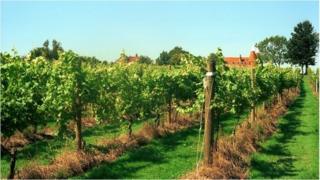 Sussex winemakers are preparing a bid to have protected name status across the EU, bringing them in line with wines such as Champagne and Bordeaux.
Vineyards throughout Sussex have grown in profile in recent years, with many winning international awards.
Success has been put down to warm, dry weather and the same subsoil found in the Champagne region of France.
Food such as Stilton cheese and Melton Mowbray pies already have protected designation of origin (PDO) status.
Jamie Everett, the chief operating officer of Rathfinny wine estate in Polegate, near Eastbourne, said he hoped an application would be submitted to the EU next month.
'Great name'
"We hope that in time people in a bar in China or Hong Kong will ask the bartender for a glass of Sussex," he said.
"I think it's a great name and a lovely old county.
"Sussex is one of the driest and warmest counties in the country, and we have the South Downs National Park here, which is a big influence.
"Part of the application to gain PDO status really is a natural progression. We are producing some world class products in Sussex and it's a very exciting time to be in the industry."
For PDO status to be granted products must be produced, processed and prepared within a particular area.
They must also have features and characteristics due to the area.