Brighton activist John Catt loses extremism database case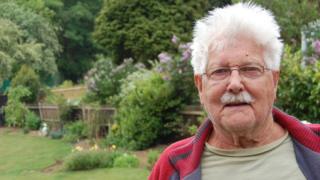 Police chiefs have won a court battle against a 90-year-old peace activist fighting to have his personal details removed from an extremism database.
John Catt, from Brighton, who has taken part in a number of campaigns but not any criminality, claims the retention of his details is unlawful.
The Court of Appeal ruled in favour of him in March 2013, saying the inclusion interfered with his right to privacy.
But the Supreme Court overturned the decision on Wednesday.
The justices agreed, by a majority of four to one, with the Metropolitan Police Commissioner and the Association of Chief Police Officers (Acpo) challenge that the decision gave the right to a private life "too wide a scope".
European court fight
Lawyers for the police had argued that the retention of his information continued to be lawful.
Mr Catt said he would take his fight to the European Court of Human Rights.
In a statement, he said: "Four senior judges have found that my rights have been violated unlawfully, whilst four others have disagreed.
"I cannot agree that the police in this country should be trusted with information about innocent people's lawful political activities.
"In my view, without a new system of rules governing police surveillance, there is too much scope for the police to abuse their powers.
"I am therefore left with no option but to take this matter to the European Court of Human Rights for the sake of other innocent people whose lawful political activities are being monitored by the state."
Mr Catt began legal action after he discovered details of his protests against Brighton-based arms factory EDO were being held on the National Domestic Extremism Database.
The database is maintained by the National Public Order Intelligence Unit, originally under the supervision of Acpo and now under the Metropolitan Police commissioner.
The Met previously said the database was maintained in compliance with a statutory code of practice.