Tonnes of pigeon faeces removed from Rye's Landgate Arch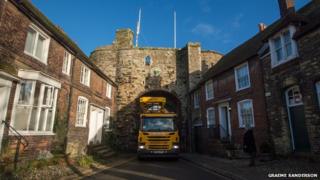 Twenty five tonnes of "festering pigeon faeces" have been removed from an 675-year-old ancient English monument.
The bird droppings, which were almost three feet deep, had built up inside the towers of the Landgate Arch in Rye, East Sussex.
Cleaning contractors described the smell from the acidic guano as "awful - even through a facemask".
The historic structure is owed by Rother council and dates from 1340 but is not open to the public.
Rother arranged for the team to clean the arch towers as it said the continued build up of pigeon faeces would have caused structural damage.
'Swamped with poo'
Mike Walker, managing director for CountyClean Environmental Services, said:"Whilst we've removed other massive blockages such giant fatbergs in sewers, we have never seen such a monumental mass of festering faeces before.
"The build up behind the doors was so big we had to force the doors open. Once inside, it was like walking on a giant chocolate cake and the smell was awful - even through a facemask."
"The floors of the towers and the steps leading to the top were swamped with 25 tonnes of poo. We filled our tanker several times over."
The clean-up operation is expected to be completed on Friday.