Southern trains cancelled after graffiti vandalism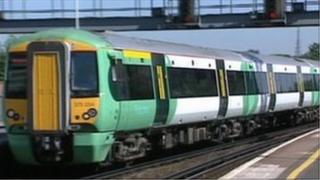 Thirty train carriages on the Southern network had to be taken out of service for cleaning after they were vandalised with graffiti over the weekend.
They were targeted at the Stewarts Lane depot in Battersea, south London, and at railway sidings in Horsham and East Grinstead, West Sussex.
Southern said it had resulted in the cancellation of some services while the vandalised carriages were cleaned.
Ten carriages were still out of service on Tuesday morning.
Insp Gary Ancell, from the British Transport Police in Sussex, said vandals were putting themselves, rail staff and police, at risk.
"What they're doing is obviously incredibly dangerous. Many of them cross the railway lines to get to the access points to get to the sidings," he said.