Balcombe 'fracking' village in first solar panel scheme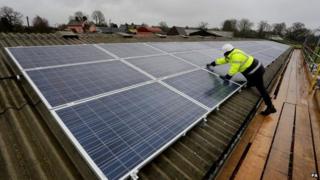 A solar panel scheme has been completed by an energy co-operative set up in a West Sussex village where major anti-fracking protests were held.
RepowerBalcombe has installed 69 solar panels on a cowshed in Crawley Down.
The group is planning further schemes with the aim of generating enough power for Balcombe's entire electricity use.
More than 1,000 protesters set up camp there in 2013 when energy firm Cuadrilla was test-drilling for oil, amid fears it would lead to fracking.
Local co-op members provided £27,300 to install the panels with the aim of uniting the community after the fracking controversy.
The panels are the group's first scheme and will produce more than 18,000 KWh of electricity a year - just over 1% of the community's energy needs - and have gone up at Grange Farm.
The energy will be sold back to the farm owners at a 30% below-market rate, and the co-op will keep the government feed-in tariff subsidy to pay dividends to members and fund community projects.
RepowerBalcombe is also in talks about a £300,000 scheme to install solar panels on the rooftops of three schools.
It hopes further projects will generate nearly 10% of the community's energy by the summer.
Spokesman Joe Nixon said the aim was to power the equivalent of all the village's electricity using clean and renewable energy.