Warning after Hellingly deer trapped in baler twine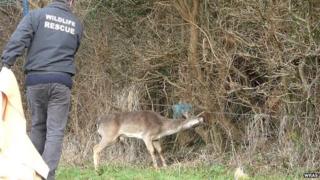 The rescue of a deer whose antlers were caught in discarded baler twine on a barbed wire fence has led to a warning from an animal charity.
The fallow deer buck was spotted struggling to free itself in Hellingly, East Sussex, on Sunday.
East Sussex Wildlife Rescue and Ambulance Service rescuers had to pin it to the ground to cut away the twine.
The charity said discarded twine caused "unnecessary suffering" to wildlife, and agricultural or domestic animals.
It urged anyone walking, visiting or working in the countryside to look out for the string and to pick up any that had been discarded.
After it was rescued the deer was able to be released back into the wild with just a few minor cuts and grazes.