Valerie Graves murder: 500 volunteer for DNA screening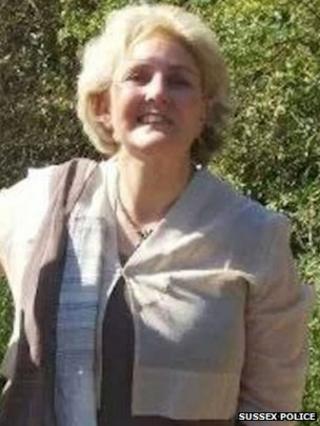 More than 500 men have volunteered for DNA screening to eliminate themselves from suspicion in the hunt for the killer of a woman in West Sussex.
Artist Valerie Graves was bludgeoned to death on 30 December 2013, in the ground floor bedroom of a property in Bosham.
The 55-year-old was repeatedly beaten with a hammer as she house sat for friends over Christmas.
The DNA screening sessions will continue until 15 February.
Sussex Police said it was very pleased with the response so far.
"We hope many more will come in for just a few minutes to help us in what is the biggest voluntary mass DNA screening in our history," said a spokesman.
The appeal has been made to men aged over 17 who live or work in Bosham, or who visit the area.
Volunteers are asked to take along photo identification, have their photograph taken and give a thumbprint and a swab from inside their mouth.
Police said they would only use samples obtained for the Valerie Graves murder investigation and DNA profiles would not appear on any database.
The mass screening is taking place at the Millstream Hotel in Bosham and is the latest move by detectives searching for the killer of the grandmother and mother of two.
The drop-in sessions are being held until Thursday, then between 2 and 7 February, and 10 and 15 February.
Last year, police obtained a partial DNA profile of the suspect - the sample was not complete enough for a search on the DNA database but could be used to eliminate suspects, officers said.
No-one has been charged over the murder in Smugglers Lane.
During the investigation a 22-year-old man was arrested and released without charge.