Sean Yates backs Brighton velodrome campaigners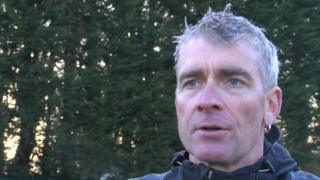 One of the leading names in British cycling is supporting a campaign to save Brighton's velodrome after it was declared unsafe for competitive racing.
Former Tour de France rider Sean Yates said it would be "a great shame" if Preston Park Velodrome was lost.
British Cycling has said the track was in need of repair and its safety in competitive events may be compromised.
Brighton and Hove City council said the track was safe for non-competitive use and continued to be well used.
'Fantastic facility'
Campaigners fear that without competition events the track will have to close.
"Cyclists that come from this track have gone on to become professionals," said Rupert Rivett, of Sussex Cycle Racing League.
"Without racing, which is the heart of it, we could see this track being lost."
Yates, who won two Grand Tour stages as a rider and was Team Sky's lead sports director when Sir Bradley Wiggins won the Tour de France in 2012, was a regular user of the track.
"If it's gone, it's gone and that would be a great shame," he said.
"It's a fantastic facility."
British Cycling said it was working with the council to find a solution.
"The track was closed to competitive cycling after users of the track identified, in particular, the fencing but also other aspects of the track as in need of repair," it said.
"British Cycling has commissioned a condition survey will include an assessment of the cost to repair the fencing and carry out the remedial work required.
"We look forward to competitive cycling returning to Preston Park in the near future."
The council said exploration of the cost of bringing the track back up to "British Cycling standards" was under way.
"We then need to explore potential sources of funding," it said.