Search for two men in Brighton feared drowned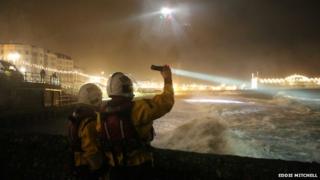 Two men are feared to have drowned in severe weather in the sea off the Brighton coast, the Maritime and Coastguard Agency has said.
They were among four men who had gone into the water overnight.
Two men managed to get back to shore and called the coastguard just after 01:00 GMT, telling them their companions were missing.
The agency said the search had turned into a recovery mission as there was "no chance of finding them alive".
They went into the sea near the Palace Pier.
Coastguard and lifeboat teams spent the night looking for the men, but strong winds hampered the search efforts and they were stood down.
Sussex Police said they believed the second man to have been swept out to sea had gone to the rescue of the first.
The men, aged 23 and 24, are from Brighton.
The others in the group were a 26-year-old man from Brighton and a 23-year-old from London, officers said.
An agency spokesman said: "The conditions for searching overnight were awful - it was pitch black and the sea was extremely choppy. It was very difficult to search.
"The helicopter and the all-weather lifeboats searched the area overnight but started to stand down at about 04:30. They felt they had done all they could.
"Very sadly, nothing has been found and it is very unlikely that anything will be."
Matt West, UK Coastguard controller, said the conditions overnight had made the search extremely difficult for those involved as the weather was currently south west eight to severe gale force nine with very high waves.
'Treacherous conditions'
Det Ch Insp Carwyn Hughes, of Sussex Police, added: "This is a tragic incident and we are liaising closely with the men's families.
"Every effort was made to find and rescue the two men in treacherous sea conditions during the night.
"Sadly, the search is now focused on recovery rather than rescue."
In a separate incident, the emergency services were also called to Brighton shortly before 09:00 GMT after an 18-year-old man was seen entering the sea.
He had taken his top and shoes off before running into the water just to the east of the Palace Pier.
He was helped from the sea by one of three friends who was with him and checked over on the beach by police and medical staff before being taken to the Royal Sussex County Hospital by ambulance.