Restoration of Stanmer Park moves step closer with lottery cash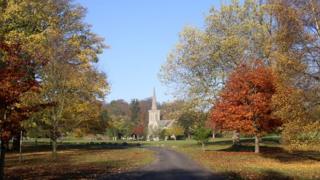 Almost £300,000 has been awarded to help develop a bid to restore an 18th Century park on the edge of Brighton.
Brighton and Hove City Council and the South Downs National Park Authority want to restore 485 hectare Stanmer Park and its Grade II listed buildings.
The Heritage Lottery fund has awarded the money to help develop a detailed bid for the £4m needed for restoration.
The council said Stanmer Park was well loved and had the potential to become one of the city's greatest attractions.
The restoration project aims to restore the park's landscapes and protect its natural features.
'Unique estate'
"This great news recognises the national importance of Stanmer Park and Estate," said Trevor Beattie, chief executive of the South Downs National Park Park Authority.
"This is the first step in restoring Stanmer to its former glory as a major gateway into the South Downs National Park.
"This project is a real opportunity to encourage more people to discover, appreciate and benefit from a unique historic estate less than five kilometres from the heart of the city."
There has been a settlement at Stanmer since Saxon times but the estate and parkland was created for the Pelham family in the 18th Century.
The farmstead has 18 agricultural buildings and there is an 18th Century walled garden to the west of the village.
During World War Two Stanmer Park was used as a billet for Canadian soldiers.
It was bought by Brighton Corporation in 1947 and the park was opened to the public in 1953.
A separate bid of £6m was submitted for a heritage grant to carry out improvements and restoration of the home farm buildings. Results from this bid will be known in February.