Bottle Alley to be repaired on Hastings seafront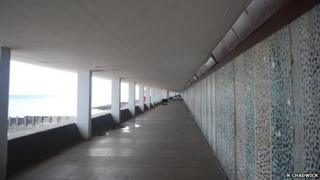 Plans for repairs worth £160,000 to an historic promenade in Hastings - known as Bottle Alley - have been approved.
Designed in the early 1930s by Sidney Little, the borough engineer, it is located on the lower deck of the two-tier promenade.
It provided an undercover walkway featuring pieces of recycled glass embedded in a wall.
Hastings Borough Council's cabinet agreed to fund a new lighting scheme and surface concrete repairs.
The funding will come from its 2015-16 capital spending programme.
The design of Bottle Alley was intended to allow visitors to walk along the top during good weather and underneath when it rained.