Driver dies after crash on Horam icy road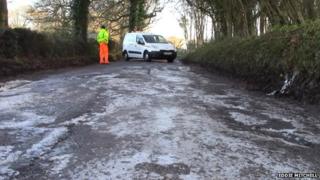 A driver has died after his 4x4 vehicle left the road and collided with a tree in icy conditions in East Sussex.
Police said the local man was pronounced dead at the scene of the crash, which happened in Furnace Lane, Lions Green near Horam at 07:00 GMT.
A doctor from the Kent, Surrey and Sussex air ambulance team attended the accident scene by car.
Sussex Police said emergency services faced temperatures of -2C and sheet ice on the road.
Furnace Lane was closed from the junction with the A267 at Sharp's Corner, Horam.
Drivers are being advised to avoid the area and to beware of the icy conditions.