Marlie Farm fire deaths compensation appeal dropped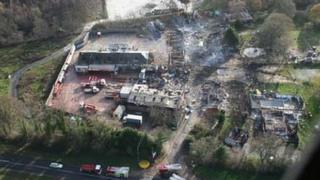 An appeal against a High Court ruling to pay compensation to the families of two men killed in a fireworks blast has been dropped, it has been confirmed.
Firefighter Geoff Wicker, 49, and fire service cameraman Brian Wembridge, 63, died in the fire at Marlie Farm in Shortgate, East Sussex, in 2006.
In 2013, their families won a court battle for compensation but East Sussex Fire and Rescue appealed.
On Friday, it said its insurers had discontinued the appeal.
Phil Howson, chairman of East Sussex Fire Authority, said: "The decision to appeal the original July 2013 ruling was made by our insurers and we were bound by that decision.
"We hope that now the settlement of the individual claims can be progressed by the insurers and that this development will now draw this matter to a conclusion for all concerned."
'Outrageous decisions'
Matt Wrack, general secretary of the Fire Brigades Union (FBU), said it was a "scandal it has taken this long for East Sussex Fire and Rescue Service to admit its guilt and to honour the ruling of the court".
He added: "Those responsible for these outrageous decisions should hang their heads in shame for prolonging this painful process.
"Geoff and Brian died in the line of duty serving the public. We have a duty to make sure their families are looked after and that justice is done."
Mr Wicker and Mr Wembridge were among the first at the scene of the fire at the Festival Fireworks site on 3 December 2006.
Twenty others, mainly police and fire officers, were injured in the massive explosion, which sent fireworks and debris flying across the area.
Festival Fireworks' owners, father and son Martin and Nathan Winter, were convicted of the men's manslaughter by gross negligence and jailed in 2009.