Valerie Graves murder: Family puts Christmas 'on hold'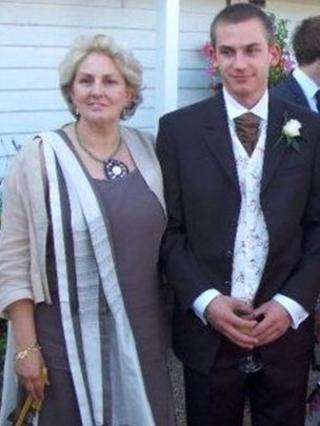 The family of a woman murdered as she house-sat for friends last Christmas have said this year's festivities are "on hold" until her killer is found.
Artist Valerie Graves, 55, was found dead by her sister at a property in Smugglers Lane, Bosham, West Sussex, on 30 December.
She had been bludgeoned with a claw hammer, suffering significant head and facial injuries.
Her son Tim Wood, 32, said the last 12 months had been terrible.
Christmas Day would have been Ms Graves' birthday.
"It's hard to carry on knowing that someone is out there able to do it to someone else and knowing that they haven't been caught for what they have done," Mr Wood said.
'Kind and loving'
He appealed for anyone with information about the killer to come forward.
"It would give some closure, knowing that they were off the streets, so that they couldn't do that to anyone else," he added.
Mr Wood's sister Jemima Harrison, 35, added their mother had been "very nice, kind and loving".
"There are lots of things throughout the year that we would have done as a family, [but] mum has not been there," she said.
"It's really difficult this time of year but it's difficult throughout the whole year."
Ms Graves was killed while staying at a house with her mother Eileen, her sister Jan and her sister's partner, Nigel Acres, while the owners were on holiday.
She had gone to bed at 22:00 GMT on 29 December and was found dead in a ground-floor bedroom the next morning.
She had recently moved back to Sussex from Scotland to help care for her elderly mother in Bracklesham Bay.
Despite a £20,000 reward, the involvement of the National Crime Agency, a BBC Crimewatch appeal and a limited DNA profile of a suspect, no-one has been charged in connection with the inquiry.
A 22-year-old man arrested in January over the murder was freed without charge in March.
'Completely devastated'
Mr Acres said: "We will spend Christmas together but Christmas is pretty much on hold for obvious reasons.
"I think we will go through the motions."
He added that Ms Graves' sister had been "completely devastated" by her death.
"To catch the person who was responsible will bring some closure," he said.
Sussex Police said there would be an increased police presence in Bosham over the anniversary period.
Officers are also asking people to submit voluntary DNA samples to rule them out of their inquiries.