Queen Victoria Hospital equipment incorrectly sterilised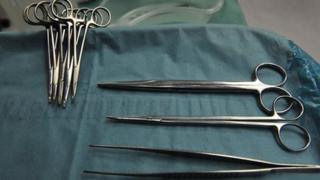 Twenty-seven patients who underwent surgery last month are being contacted by a Sussex hospital trust as medical equipment was not correctly sterilised.
The Queen Victoria Hospital NHS Foundation Trust said the instruments were decontaminated but had not been sterilised in a pressure chamber.
It said the risk of patients developing an infection from their treatment at the hospital in East Grinstead was low.
It has apologised to the patients and said it was reviewing its policies.
The trust said of the 27 patients it had known were operated on with the affected medical equipment, none had any signs of infection while they were being monitored during their recovery from surgery.
It also stressed that the decontamination process killed all viruses.
Any patients who have any concerns or wish to discuss the matter further have been asked to contact the trust.