Offham farmer's sheep mauled in fourth dog attack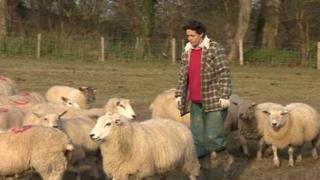 The fourth dog attack in a year on a flock of sheep in Sussex has "wiped out years of work", a farmer has said.
Almost a third of Susan Harmer's prize-winning flock were left dead or injured at her farm in Offham, near Lewes.
Twenty-five were mauled, including a ram and pregnant ewes, in the overnight attack earlier this month.
"Sheep were strewn everywhere, with a pile of them in one corner where the dogs had trapped them and attacked them," Ms Harmer said.
'Emotional loss'
"These are sheep which we have for their whole breeding lives - about 10 years - and we get very fond of them.
"They're not just a commodity, they're our livelihood. This is a huge emotional loss."
Ms Harmer said the attack was the worst her farm had faced this year.
She appealed to dog owners to put their animals on a lead before entering a field and to not put them out at night.
Sussex Police are investigating the attack, which happened overnight on 4 December, and have urged anyone with information to contact them.