'Community pub' on housing estate in Brighton opens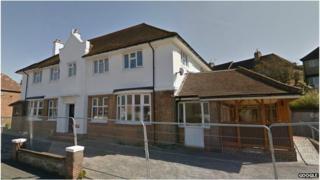 A community-owned pub - claimed to be the first of its kind situated on a housing estate - has opened its doors.
More than 700 people have bought "community shares" in The Bevy, which is in the Bevendean and Moulscoombe area of Brighton.
The pub was closed in 2010, but after raising £200,000, it has re-opened with a cafe and community space.
Father John Wall, the Vicar of Moulsecoomb, performed a blessing at the pub for its opening.
He said: "Every community deserves a decent church and a decent pub.
"St. Andrew's can do the church bit, and we are hugely supportive of The Bevy as our pub."
'First pint'
The pub used to be called The Bevendean Hotel.
Warren Clarke, who is the chairman of The Bevy's committee, said when it closed it left 18,000 nearby residents without a pub.
He said: "We have finally realised our dream.
"That first pint will be the best I have ever tasted, but more than that, we think The Bevy can be a blueprint of how to run pubs up and down the country."