Brighton's £950,000 Seven Dials junction to be repaired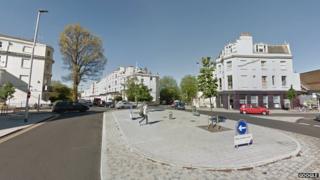 Repairs are to be carried at a roundabout that cost £950,000 to build about a year ago.
Kerbstones on the cobbled outer section of the junction at Seven Dials in Brighton have started breaking up.
Conservative city councillor Dawn Barnett said the roundabout was far too large and lorries could not get round it properly.
Brighton and Hove City Council said the scheme was a "popular success" and the damage was "barely noticeable".
Before work to expand the mini-roundabout was completed in 2013, the Seven Dials junction was the scene of 20 accidents in three years and was labelled the "most accident-prone" by the council.
'Right speed'
The seven roads that meet there include the A2010, a major route through Brighton.
"It shouldn't be breaking up after 13 months and nearly a million pounds," said Ms Barrett.
"If it had been done as professionally as it should have been then surely it would have been able to withstand all that [traffic[.
"Surely this is going to be an ongoing thing: they'll repair it now, they'll repair it in six months' time and six months after that. If it had been put right in the first place that wouldn't have needed to be done."
The council said the junction was "keeping cyclists safer, easing traffic flows and creating a much more pleasant environment for everyone".
A spokesman added: "We are aware of the problem with loose paving slabs there and will be carrying out repairs after Christmas when it should be a bit less busy.
"We consulted with the Brighton & Hove Bus Company while designing the roundabout. The design is able to cope with all vehicle sizes if they are travelling at the right speed."
The council would not disclose the cost of the repair work.