Newhaven depot blaze debris still being removed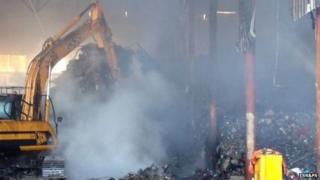 Lorry loads of rubbish are still being removed from a household waste storage depot that has been on fire for five days in East Sussex.
At its height, 60 firefighters were on site at the blaze at Skip-It containers in North Quay Road, Newhaven.
Most of the smoke, which had been billowing hundreds of feet into the air, has now cleared.
An investigation is under way into the cause of the blaze, which began on Friday morning.
'Not hazardous'
Skip-It said the waste was compacted, baled household waste due to be exported to Germany for burning in an incinerator.
"This business is regulated and tests for chemicals are regularly carried out," it said in a statement.
"No hazardous materials - such as tyres or asbestos - are involved."
Des Pritchard, chief fire officer for East Sussex, said firefighters and the site owners were pulling the waste from the storage building with diggers, damping it down and then taking it to a site about half a mile away.
"There's also a lot of water on site so we are working with the site owners to have that water taken away and disposed of safely," he said.
He said the blaze was taking days to put out because of the complications in dealing with a fire in a "very large pile of household waste".
"You can't just put water on it because it won't sink in through the pile to where the fire is," he said.