Sussex restored Anglo Saxon church St Botolph's reopens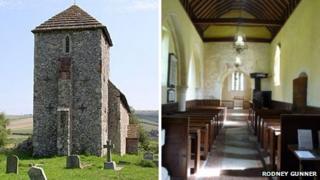 A Grade I-listed Anglo Saxon church has been officially opened after a £380,000 restoration project.
Work has been carried out on St Botolph's, near Bramber in West Sussex, to replace the roof and timbers and stabilise a wall.
The repairs were paid for by the Churches Conservation Trust.
Rodney Gunner, chairman of the Friends of St Botolph's, said the repairs were carried out with local stone and slate so they could not be seen.
"It looks exactly the same as it has always looked. That was always the idea," he said.
St Botolph's is still consecrated but has between eight and 12 Sunday services a year.
According to the parish website, the church dates from AD 950 and large parts of its Saxon construction remain
Mr Gunner said the building on the South Downs Way was isolated and quiet - attracting walkers and people who wanted to sit and think.
The Churches Conservation Trust said St Botolph was the patron saint of wayfarers and the church received many visitors walking the South Downs Way.
"It's very valued by the local community and those from a 10 to 15-mile radius," Mr Gunner said.
The church was previously surrounded by a village but that disappeared at the time of the Black Death, he added.
Further restoration is planned for medieval wall paintings inside the church next year.