Crawley council defends £17,000 Christmas lights switch-on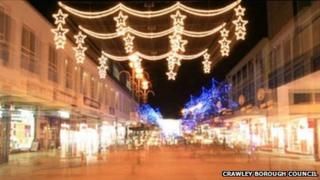 Crawley Borough Council has come under fire for spending almost £17,000 of taxpayers' money on an hour-long event to turn on the Christmas lights.
The money for last month's switch-on paid for entertainers, fireworks and bouncers but local Tory MP Henry Smith said it could have been better spent.
He said it should have been used for "really good Christmas lights" that are up for the six weeks before Christmas.
Council leader Peter Lamb said it had given a boost to the local economy.
"There were a range of activities going on throughout the course of the day and the 3,000 people who turned up actually really had a good time.
"The only [negative] comments have been from people who weren't there," he said.
'Rejuvenate town centres'
But Mr Smith said the event on 22 November had lasted for less than an hour, had caused traffic gridlock in the town centre, and had been described by residents as not very well-organised.
The Christmas lights were switched on by TV and radio presenter Stephen Mulhern.
Labour took control of the council in West Sussex from the Conservatives in the council elections held in May.
Mr Lamb said the last switch-on previously had been seven years ago - the first year the Conservatives were in control of the council.
"The total expenditure that year was over £44,000 on the lights and the switch-on event," he said.
"Most reports at the moment are saying that if you want to rejuvenate town centres you put on events as well as do a lot of structural work, which we're doing.
"We're investing £3m in the town centre in order to try and bring it back up to scratch.
"You've got to be putting on events that draw people in, get them in the shops - and that's exactly what we've done," Mr Lamb said.
He added that although businesses had not contributed this year, talks were being held about them buying new lights for next year.