Sussex Symphony Orchestra's last concert at town hall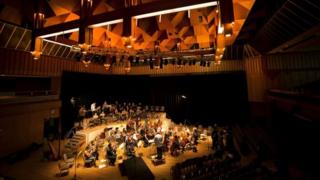 An orchestra has given its last concert at Hove Town Hall before the building closes as a performance venue.
Sussex Symphony Orchestra has been performing at the town hall since 1993 but has had to find another base.
Founder Mark Andrew James said the orchestra had found a temporary home.
Brighton council said the town hall would close as a venue on 24 December but council teams and police would remain in the building, which is being renovated.
Mr James, who is also the conductor, said: "We have found a temporary venue, All Saints Church Hove, but needless to say, [it] has only church facilities and is not equipped to hold a huge audience, which of course generates important ticket revenue."
WW1 carols
The orchestra still had to find another venue that was large enough for a sizeable audience with facilities for a concert-going public, he added.
The orchestra's concert on Saturday was to mark the "Christmas truce" of World War One, when many soldiers stopped fighting.
According to the Imperial War Museum, late on Christmas Eve 1914 men of the British Expeditionary Force heard the Germans singing carols, messages were shouted between the trenches and the following day British and German soldiers met in No Man's Land.
The programme included carols that were sung during the truce, and readings by war poets.
The orchestra, made up of professional and amateur musicians from Sussex, was formed in 1993. One of its highlights included providing a "pop-up" orchestra in a departures lounge at Heathrow Airport for a British Airways advert.