Sussex Police 'in crisis' after funding cuts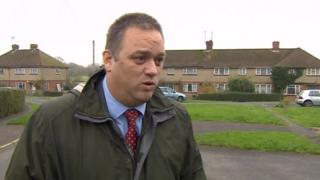 Rank and file police officers in Sussex say the force is in crisis because of funding cuts that they say spell the end of community policing.
Changes which mean the force will no longer respond to every incident amount to "rearranging the deckchairs on the Titanic", the officers say.
The Police Federation is calling for a rise in council tax to plug the gap.
Chief Supt Tony Blaker said he was confident police could work more efficiently and effectively.
'Increasing workload'
Sussex Police has lost 300 officers since 2010 as a result of government cuts of £52m which must be made by 2015. It currently has 2,850 police officers.
"Those who are left behind are facing an ever increasing workload and are being asked to do more with less," Police Federation chairman Paul Sellings said in an open letter to Sussex Police and Crime Commissioner Katy Bourne.
Sussex Police has published a plan for the future of the force, which states it will not respond to every incident, including non-emergency issues that could be better dealt with by other agencies.
"If you have got a group of youths in a street causing a disturbance but not necessarily committing any serious crime that may no longer get a police response," said Det Sgt Sellings.
The federation is calling for an increase in the amount Sussex Police takes from council tax payers.
The force currently receives £141 a year from people in a Band D property and is proposing to increase it by 1.98%, or £2.79, in 2015-16.
The federation thinks it should go up by £25 to help make up the shortfall caused by the cuts.
"Mr Sellings's vision of a police force in crisis does a huge disservice to police officers who work very hard and are highly regarded by colleagues and the public," said Ms Bourne.
"We are not just looking at how we can shrink and cut we are actually looking at how we deliver services.
"Are there incidents where other parties should be responsible, like mental health for example?"