March for England: 13 charged over Brighton fight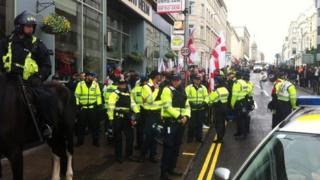 Thirteen people have been charged over a fight which broke out during the March for England in Brighton in April.
The 11 men and two women, aged between 18 and 50, are accused of violent disorder outside the Dorset pub at Gardner Street and North Road.
They are all due to appear at Brighton Magistrates' Court on 8 January.
About 200 people took part in the nationalist march on 27 April, with between 400 and 500 protesting against the event according to Sussex Police.
The 13 people who have been charged with violent disorder are from Brighton, Glynde in East Sussex, Henfield in West Sussex, Harrow in west London, Doncaster, Cleethorpes, Grimsby and Sheffield.