Sussex Evolution sale: Woolly mammoth skeleton auction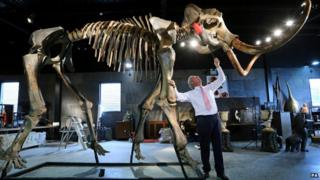 A near-complete skeleton of an Ice Age woolly mammoth fetched £150,000 at an auction in West Sussex.
The skeleton was expected to fetch between £150,000 and £250,000 at the second Evolution sale in Billingshurst.
At last year's first Evolution sale, Summers Place Auctions sold a Diplodocus skeleton for £400,000.
The woolly mammoth skeleton, which was found in eastern Europe and is between 30,000 and 50,000 years old, was bought by a UK-based private buyer.
It was sold in a telephone bid, which, with the buyer's premium, amounted to £189,000.
The auction house said the skeleton -18ft (5.5m) high and 11ft 6in (3.5m) long and weighing up to six tonnes - was found decades ago but had only recently been prepared and mounted.
Experts believe the mammal could have been male because of its size and weight and have nicknamed it Monty.
Curator Errol Fuller said it took four people to lift the mammoth's skull and fix it to the body.
Extinct species
Woolly mammoths, which were covered in fur and had long, curved tusks, died out about 10,000 years ago.
The auction house said complete skeletons were rare but isolated teeth, bones and tusk fragments were occasionally found - sometimes dredged up from the sea.
The specimen which was sold on Wednesday by a private collector is 90% complete.
A few small bones are missing but those have been replaced with replicas, according to the auction catalogue.
Another item in the auction included a 30cm (11in) elephant bird egg which went for £69,960 to a Chinese museum.
Mr Fuller said: "I am really pleased that this sale includes so many rare and extinct species.
"We have managed to assemble some of the best examples in this field and it's a great opportunity to see them all together."