Bexhill campaigners want local council for the town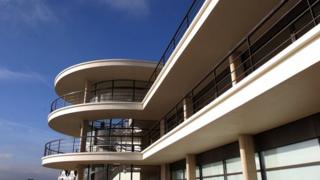 Campaigners in Bexhill are calling for the town to have its own layer of local government, which they say would help revitalise it.
They want a town council to be created to respond to local demands and needs, which they argue the current district council does not.
Campaign spokesman Alan Whitt said it would be a relatively cheap way to get improvements in the tourist town.
A public meeting heard it was one of several options being considered.
Bexhill is currently overseen by Rother District Council, whose offices are based in the town but whose area stretches beyond Rye in the east and to Ticehurst in the north.
Its population of just over 40,000 is roughly half that of the entire district.
Loos 'are awful'
Mr Whitt said: "Bexhill is represented by 18 councillors. The surrounding rural area, which has roughly the same population, counting parish councils and town councils has 282 - something of an imbalance, to say the least."
He said a town council could assume some of the district council's responsibilities, including street maintenance, litter collection, public toilets and car parking.
"They may sound like little things, but for a town that makes its living out of having tourists here, they really are important. The public loos are awful. They're dreadful," Mr Whitt added.
A public meeting heard a community governance review would also consider the possibility of an area committee of local district councillors and a network of parish councils.
A Rother District Council spokeswoman said a review could be considered if a petition signed by the requisite number of people were delivered or councillors voted for one.
But she said nothing had been received.