Shuttle bus plan between two East Sussex hospitals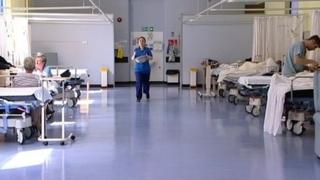 Calls are being made to run a shuttle bus between two hospitals in East Sussex which share services.
In June maternity, paediatric and orthopaedic services switched from Eastbourne District General Hospital to the Conquest Hospital in Hastings.
Stroke care, urology and the ear, nose and throat unit stayed in Eastbourne.
Now Eastbourne borough councillors are calling on East Sussex County Council to pay for a bus for patients to travel the 20 miles (32km) between hospitals.
Liberal Democrat John Ungar, who put forward the idea, said: "I have been told by so many residents about the difficulty of getting between the two hospitals and I thought some action needs to be taken.
"We need to tackle this problem because people's health is very important and it is not good enough to provide services, we have to make sure people actually have access to them."
David Elkin, East Sussex county councillor responsible for resources, said: "We do not have oodles of money and I hope that everybody knows that.
"What we really need to do is establish what the need is, who needs the support and what time of day."
But, he added, that transport should have been considered during the consultation.
The announcement to centralise services follows eight years of campaigning to try to keep a full range of maternity services at Eastbourne.