Man bailed after suspected illegal immigrants jump off boat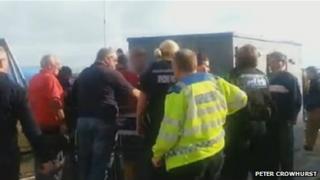 A man arrested in East Sussex on suspicion of facilitating illegal entry into the UK has been released on bail.
The 40-year-old was held on Saturday after 13 Albanian men and a boy were detained when they arrived in Sovereign Harbour, Eastbourne, on a motorboat.
The harbour master alerted police after they tried to disembark.
Local Liberal Democrat MP Stephen Lloyd has written to the Home Office asking how thousands of miles of the British coastline are being secured.
"I've written to James Brokenshire, who's the minister for borders, to say 'what plans do we have to actually police what is effectively thousands and thousands of open coastline?'," he said.
'Broken down boat'
Former coastguard Andy Roberts said the answer was possibly to have more patrols.
"The Border Agency are very, very aware of what is going on, and I'm sure that they are covering and monitoring what they can," he said.
According to witnesses, the suspected illegal immigrants jumped off the motorboat and tried to run away once it was inside a lock at the entrance to the marina.
It is understood the boat had broken down outside the harbour and had to be towed inside.
The 13 men, aged between 19 and 39, are being held at Home Office immigration removal centres.
The Home Office said seven were awaiting deportation.
The boy, thought to be 14, has been referred to social services.