Restored Sussex lifeboat Priscilla MacBean has new resting place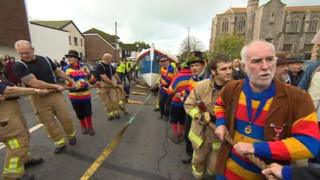 RNLI crews have helped to move an old lifeboat to a new resting place in Hastings, following its restoration by a team of volunteers.
The Priscilla MacBean was Eastbourne's first motor lifeboat in the 1920s.
It was moved to a dry dock on the anniversary of the day its sister boat, the Mary Stanford, was lost at sea 86 years ago with the 17-strong crew.
The boat was found rotting in a field by antique dealer Deeday White who worked with 27 volunteers to save it.
"They worked all through the winter and they cut wood, they painted it, they filled it, they glued it, and we put the whole lot together in the course of a year," he said.
Hastings mayor Councillor Bruce Dowling said the restored lifeboat was intended to be a lasting legacy to local crews.
"It's important to preserve some of our history and to bring it to life," he said.