Connah Smith jailed for nurses murder bid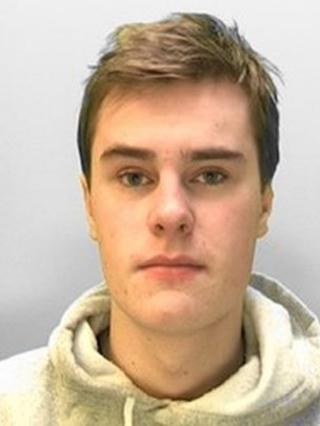 A man found guilty of attempting to murder two trainee nurses who were stabbed, doused with petrol and almost set on fire has been jailed for life.
Connah Smith, 20, from Brighton, held Gabby Price and Megan Parsons in their home for more than seven hours in March and stabbed them repeatedly.
At Lewes Crown Court he was ordered to spend at least 15 years in prison.
Smith had admitted wounding with intent to cause grievous bodily harm, making threats to kill and false imprisonment.
He was found guilty of attempted murder on Monday.
The women, who were aged 20 and 21 at the time of the attack, were treated at the Royal Sussex County Hospital in Brighton for stab wounds.
Sussex Police said Ms Price was known to Smith, who had prepared a rucksack containing a hammer, knives, an imitation firearm, a can of petrol, matches and sticky tape.
The two women were asked how they wanted to die before being stabbed and were constantly told by Smith that they were going to be killed.
Police said they were also held down under water in the bath.
In a statement issued by the victims after the verdict, they said: "Connah Smith is an extremely dangerous man and we are pleased that his conviction means that he is unlikely to be able to hurt someone else for the foreseeable future."
Det Insp Mick Jones said Smith had subjected them to a "horrendous" ordeal "which was like something out of a horror movie".