Sussex lifeboat Priscilla MacBean restored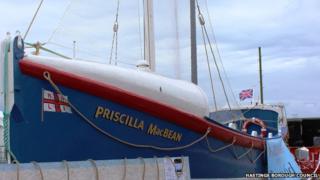 A lifeboat, which once faced a future as a chicken coop, has been restored and put on public display.
The Priscilla MacBean, Eastbourne's sixth lifeboat, was spotted in a field in Hailsham, East Sussex, by Hastings resident D-Day White.
Mr White and John Hamilton set about restoring the boat which had been in danger of being used to house chickens by the previous owner.
The lifeboat has now been restored and given a new resting place in Hastings.
An official procession on 15 November through the town will welcome the lifeboat to its new resting place close to Hastings lifeboat station and the entrance to the old town.
The boat will be blessed and a service of remembrance for the crew of Priscilla MacBean's sister lifeboat, the Mary Stanford, will take place.
The Rye lifeboat, Mary Stanford, capsized on 15 November 1928 with the loss of the 17-strong crew.
Priscilla MacBean was built at Cowes in 1921, and dedicated by the Bishop of Lewes later that year.
The lifeboat was originally intended for service at Eastbourne.
But it was not considered suitable for the English Channel and was moved to Kirkcudbright, Scotland, in 1928 to cover the Solway Firth.
A few years later, it was moved to Maryport in Cumbria, before being retired from RNLI service in 1934.
After spells in France and on Lake Windermere, the lifeboat was brought by someone in Eastbourne who intended to use is as a pleasure boat in the English Channel.
It ended up in the farmer's field in Hailsham after the previous owners had been unable to return the Priscilla MacBean to a seafaring condition.