Third Deghayes brother: 'I could return home from Syria'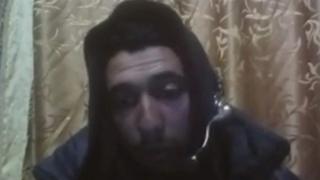 A British man whose two brothers were killed fighting in Syria for a jihadist group has not ruled out returning from the war-torn country.
Amer Deghayes, 20, of Saltdean, East Sussex, travelled to Syria in October 2013 to join Jabhat al-Nusra and help overthrow Bashar Al-Assad's government.
He told BBC South East he would return home if his parents wanted, but also talked about becoming a martyr.
His brothers Jaffar, 17, and Abdullah, 18, died in previous months.
The Home Office said the "strongest possible action" would be taken to protect the UK from anyone who had travelled to Syria from Britain to engage in terrorist or unlawful activity.
'Lost perspective'
During an interview over the internet, Mr Deghayes, who joined the al-Qaeda-linked militant group last year, said he had been involved in armed combat but refused to reveal any details.
"At the moment I'm trying to increase my military knowledge so I'm trying to spend my time more in courses by military and Islamic knowledge courses," he said.
When he was told his father, Abubaker, had warned would-be jihadists against fighting in foreign wars, Mr Deghayes called him a "sinner".
But he continued: "If I want to I can come back to the UK. If they [my parents] want me to come back I'll come for them."
Describing how he felt when heard his brothers had been killed, Mr Deghayes said: "I sort of smiled because I know that if someone's intention is to fight for Allah and he is killed in that path, then I know what the virtues are.
"This life is not the eternal life, this life is not what it's all about, this life is just a test... the afterlife is what it's all about."
Abubaker Deghayes told the BBC his son had lost perspective.
He said: "What he went through - two brothers have been killed - this affects him and affects his decisions.
"For a youth to have a balanced judgement you have to have a cool head."
---
October 2013 - Amer Deghayes travels to Syria to fight with militant group al-Nusra Front
January 2014 - Abdullah and Jaffar Deghayes join their brother
April 2014 - Abdullah dies in Latakia province
October 2014 - Jaffar is killed near Aleppo
---
'Violent jihadist group'
The brothers are nephews of Omar Deghayes, who was held by the US at Guantanamo Bay detention camp between 2002 and 2007 after he was arrested in Pakistan.
Charlie Winter, a researcher at the Quilliam Foundation think tank, said Amer Deghayes had joined a violent jihadist group whose overall aim was the same as Islamic State (IS).
He added: "The fact that it's focusing on Syria now is tactical because it knows it can get more grass-root support.
"The ultimate enemy is the US, Israel and the West.
"It's really troubling that people are beginning to see Jabhat al-Nusra as the lesser of two evils.
"The fact is that a moderate jihadist is a total non sequitur."
A spokesman for the Home Office said: "The police and security services are actively working to detect and disrupt any terrorist threat from Syria and individuals who travel there.
"People who are thinking about travelling to these areas to engage in terrorist activity should be in no doubt that we will take the strongest possible action to protect our national security, including prosecuting those who break the law."