Adur Ferry Bridge 'vandalism' caused by impurity in glass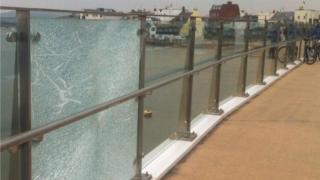 Smashed glass on a new footbridge was caused by a chemical impurity, rather than vandalism, it has emerged.
CCTV cameras were installed on the £10m Adur Ferry Bridge in Shoreham, West Sussex, and police patrols stepped up after six glass panels were thought to have been deliberately smashed.
An investigation commissioned by West Sussex County Council has now found the damaged glass was due to an impurity.
The council said contractors were looking at how to remedy the situation.
The chemical impurity, called nickel sulphide, was discovered following extensive testing of the glass.
Councillors said vandalism had now been ruled out in five of the six cases, with the sixth likely caused by vandals.
No panels have cracked along the bridge in the last five months, the council said.
The £10m footbridge was opened last November and allows people to reach the town centre from Shoreham beach.
The council commissioned an investigation after a panel cracked while pedestrians were on the bridge and the CCTV camera covering the area showed no act of vandalism.
Councillor Pieter Montyn said: "Even with the panels containing this impurity they, and the bridge, are absolutely safe and people should not be worried."
The glass is laminated, similar to a car windscreen and, if it cracks or smashes, the structure of the glass remains intact.
As a precautionary measure West Sussex County Council has wrapped the glass in a protective film in the event any glass may fracture.
The cost of repairs to the six panels that have smashed was £6,000.