Balcombe anti-fracking group argue case in High Court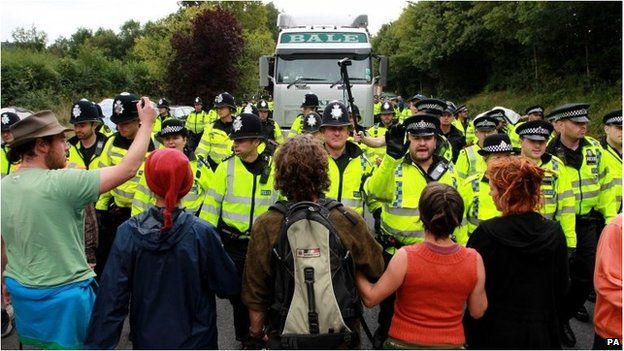 Anti-fracking campaigners are arguing their case against further oil exploration in West Sussex in front of a High Court judge.
A residents' group from Balcombe wants a judicial review into the county council's decision to allow energy company Cuadrilla to carry out testing.
They claim the planning permission was granted unlawfully.
West Sussex County Council (WSCC) is contesting the legal challenge to its decision.
Cuadrilla carried out test drilling in Balcombe in 2013, sparking demonstrations by thousands of protesters from across the UK, who feared test-drilling would lead to fracking.
The company was granted further planning permission on 29 April this year for flow testing at the Lower Stumble site.
Flow testing is the monitoring of the speed at which oil comes out of the ground to see how commercially viable it is.
Law firm Leigh Day, representing Frack Free Balcombe Residents Association (FFBRA), argues planning permission was granted "despite massive objection to the development".
At the time of the consultation, 889 respondents objected while nine were in favour.
'Overwhelming opposition'
"We remain confident that the court will rule that this planning permission was granted unlawfully," said Leigh Day spokesman Ugo Hayter.
"Our clients are greatly concerned that this operation risks polluting the aquifer and nearby reservoir and flies in the face of overwhelming community opposition."
Cuadrilla has previously said the testing would last seven days but would not involve hydraulic fracturing at the site because the rock is naturally fractured.
It insists the new tests involve using solutions that are considered non-hazardous to groundwater.
WSCC said: "We will be contesting the challenge to West Sussex County Council's decision and await the court's ruling before commenting further."
The two-day hearing in London, in front of Mr Justice Gilbart, ends on Friday.
Related Internet Links
The BBC is not responsible for the content of external sites.