Funeral held for 'Father Christmas' of Burgess Hill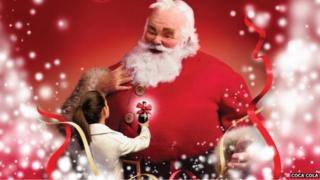 The funeral has been held for an actor known to many as Father Christmas.
John Moore, 85, from Burgess Hill in West Sussex, appeared as Santa Claus in Christmas adverts for Coca-Cola and Morrisons.
After the funeral at St Edward's church in Burgess Hill there was a wake at the Woolpack next door, where Mr Moore used to appear as Santa Claus each year.
Lance Nuttall, from the pub, said: "As far as we're concerned he was Father Christmas."
The pub set up a Christmas grotto each year, he said.
"I think the mums were more excited about seeing him than the children were."
Mr Nuttall said: "He was a really lovely man. He was a regular customer who would come to us after church on Sundays."
'Rest in peace, Santa'
He was an actor who played various parts, Mr Nuttall said, but his main role was as Father Christmas.
"He certainly looked the part," added the publican.
Coca-Cola said the company used Mr Moore in its printed advertisements,
Mr Nuttall said that in later years thousands of photographs were taken of Mr Moore that were used to form the basis of the CGI advertisements.
"If you look at the CGI image and you look at the image of John, you'll see."
Tributes have been paid to Mr Moore on social media.
On Facebook, Sara Alderson-Jenkins wrote: "He was a wonderful man. Big heart and I will miss seeing him, it always brought a smile and a wonderful hello."
Hairdresser Simone Kitchener wrote: "He was such a lovely, kind gentleman.
"I'm so pleased I had the pleasure of cutting his hair & his famous beard for the last four years! Rest in peace Santa ....... xxx"