West Sussex nightclubs urged to offer water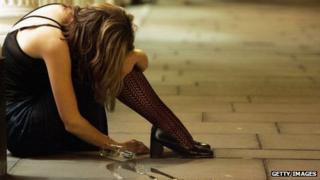 Pubs and clubs in West Sussex are being urged to offer drinking water to their customers to try and reduce the number of alcohol-related A&E admissions.
The Water Angel scheme is targeting 18 to 24 year olds in a bid to encourage them to pace their alcohol consumption.
Smaller venues are being asked to introduce water coolers while at others people will hand out water to drinkers.
In 2012, Worthing had the highest rate of alcohol-related male deaths in the county at 73 deaths per 100,000 people.
A pilot project at one of the county's biggest nightclubs saw models dressed up in angel wings handing out shots of water from water packs to clubbers.
Dilute effects
Councillor Christine Field, West Sussex County Council's member for community wellbeing, said: "This is not an anti-drinking campaign.
"It's about getting young adults to drink more water, and in so doing helping them to pace their drinking.
"We recognise the fact that young adults won't queue at a bar and ask for a glass of water - so why not take the water to them?"
Sussex Police said they hoped the scheme would also help prevent anti-social behaviour.
Jean Irving, the public safety manager for the force said: "Anything that dilutes the effects of alcohol is a very positive step forward."
The campaign is being supported by Henry Maybury whose brother Tom died in February 2013, aged 29, as a result of his addiction to alcohol.
Mr Maybury said: "I saw someone in front of me go from a David Beckham lookalike to someone who was in a hospital bed, lime green, rotting away, barely able to recognise his family.
"I thought 'I've got to do something about this'."