Brighton chewing gum remover sale loses council thousands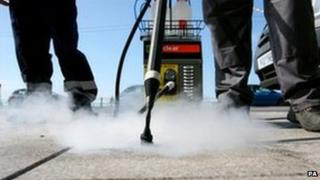 A union has criticised Brighton council after a machine bought to clean chewing gum from the streets lay idle until it was sold for a fraction of its cost.
The city council bought the £123,000 machine in 2010, saying it would cut its £25,000 annual gum cleaning bill.
But, it has been revealed it sold the gum-removal equipment at auction in February for £13,971.
A council spokesman confirmed it had been sold but said not further information was available.
'Collecting dust'
Mark Turner, of the GMB union, said the equipment was a waste of money.
"The vehicle was not fit for purpose," he said.
"It wasn't able to do the work that the council alleged it would do.
"For over three years it sat at the back of Stanmer Park collecting dust and moths."
Former leader of the council, Conservative Mary Mears, said she was disappointed the machine failed to reach its full potential.
"We had three demonstrations - on the seafront, in West Street and Churchill Square - where there is some of the heaviest footfall in the city," she said.