Brighton sees three further strike days in bins dispute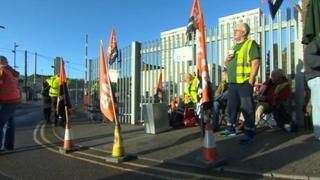 Refuse truck drivers have begun three days of strike action in a continuing dispute with Brighton council over pay, staff grading and responsibility.
Stoppages are taking place on Thursday, Friday and Monday by members of the GMB union.
The council said it was disappointed the action was going ahead. It said the authority and the GMB were committed to talks over a redesign of the service.
The union said both sides were at an impasse.
Union spokesman Gary Palmer said only the refuse and recycling drivers were on strike, and other staff such as the loaders were at work but not able to go out on the vehicles.
He said managers had sent them out litter-picking with bags and clippers.
'No trust'
Members did not trust managers to be able to deliver the service redesign or tackle the issue of gradings, he said.
Mr Palmer said the union remained open to talks but added: "There is no trust in the council officers' ability to deliver. We are at an impasse."
Richard Bradley, head of city infrastructure on the council, said: "We are committed to ongoing dialogue in accordance with the timetable for service redesign, as are the GMB.
"We apologise to our residents who continue to face significant disruption to their collections as a result of this action."
Residents have been advised to leave rubbish and recycling out as usual but are warned most collections will be affected.