Shingle moved to strengthen Seaford sea defences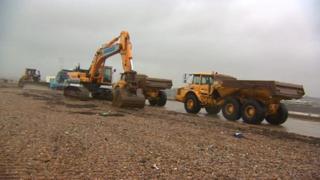 More than 60,000 cubic metres of shingle are to be moved to strengthen Sussex coastal defences previously branded as "dangerously inadequate".
The three mile (4 km) shingle beach at Seaford will take the energy and force out of the waves, protecting the sea wall, the Environment Agency said.
In February storms exposed the sea wall, which had been buried under shingle since 1987.
Shingle is moved by the sea from the centre of the beach to either end.