Churchill grandson Nicholas Soames MP is knighted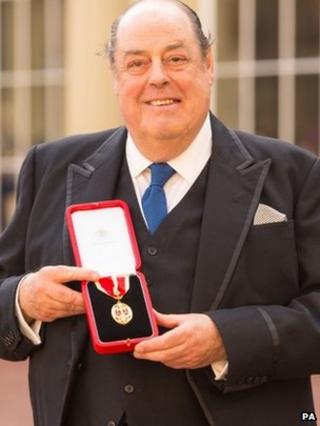 The MP grandson of Sir Winston Churchill has said being knighted himself was "one of the proudest days of my life".
Nicholas Soames, 66, MP for Mid Sussex, was honoured by the Queen for his political service during a Buckingham Palace investiture ceremony.
"To be dubbed by my sovereign is an absolutely wonderful honour for me and my family," he said.
Sir Nicholas was a defence and agriculture minister under John Major.
He was elected to Parliament for the seat of Crawley in 1983, and in 1997 for his present constituency.
The Eton-educated politician is also a close friend of the Prince of Wales and served as Prince Charles's equerry in the early 1970s.
Now on the back benches, he is president of the Conservative Middle East Council and co-chairman of the cross-party group on balanced migration.
Speaking about the investiture, Sir Nicholas said: "The Queen was very nice to me.
"I told her I'd been in Parliament 30 years and she said, 'It goes like a flash when you're really busy'."
Also recognised during the investiture ceremony was virtuoso pianist Stephen Hough, 52, described as a renaissance man who composes, writes widely for many publications and has recorded dozens of albums.
Mr Hough, who became a CBE, said: "It is wonderful that the arts, which in one sense is entertainment, are recognised in this way.
"It is something you hope brings joy to people in ways you can't quite put your finger on, because music just disappears into the air."
Prof Michael Slater, one of the world's leading experts on Charles Dickens, was made an MBE during the palace ceremony.