Agatha Christie jewels found in trunk fetch £49k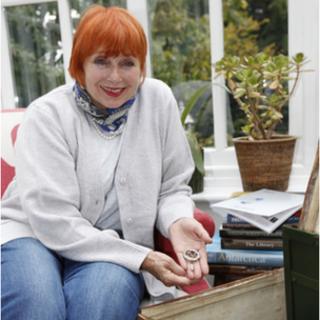 Jewels belonging to crime writer Agatha Christie, which were discovered locked in a trunk bought for £100, have fetched £49,375 at auction.
The diamond brooch and ring were found in a strongbox in the trunk in 2006 after it was bought at a contents sale at the writer's former estate in Devon.
Jennifer Grant, of Nutley, East Sussex, wrenched open the box - bolted inside the trunk, four years after buying it.
They were expected to fetch £15,000 at Bonhams but went for £49,375.
'Great interest'
The buckle brooch went for £27,500 and the ring £21,875.
Julian Roup, from Bonhams, said: "The client is delighted as the results are four times over the pre-sale estimate.
"No mystery here - the Agatha Christie name still has great interest for many people."
The travelling trunk belonged to Agatha Christie's mother and was part of a sale at the author's Greenway estate near the River Dart.
Forced open
Mrs Grant bought the trunk and when it was delivered found the sealed strongbox inside.
She did not open it until 2010 when she forced it open with a crowbar.
She said she was "almost hyperventilating" when she discovered the items and realised what they were.
The diamond jewels are mentioned in Agatha Christie's biography as being earmarked for her and her sister Madge.