Crime writer Agatha Christies's lost diamonds to be auctioned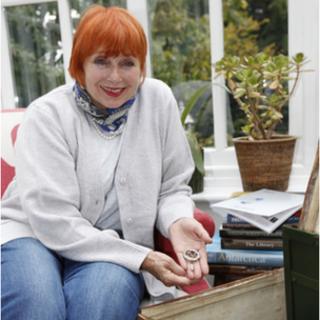 An Agatha Christie fan who bought a trunk from the novelist's estate only to discover it contained family jewels, is selling the diamonds at auction.
Jennifer Grant bought the case, with a strongbox inside, in 2006 at a sale at the writer's former home in Devon.
It was not until four years later she forced open the box and found a diamond brooch and ring inside.
Now Mrs Grant, of Nutley, East Sussex, is auctioning the jewels at Bonhams which could fetch up to £13,000.
The travelling trunk, which belonged to Agatha Christie's mother, was part of a contents sale at the novelist's former estate, Greenway.
'Nearly hyperventilating'
Mrs Grant bought it for £100 and when it arrived, she discovered a sealed metal strongbox inside which was bolted to the base of the trunk.
She said: "The strongbox made the trunk a great heavy thing, so it sat at the bottom of the stairs for years.
"I almost did not want to open it because then the mystery would be over.
"When friends came round we would tip the trunk from one side to the other and listen to hear if anything rattled
"If you were very quiet you could just about hear something sliding inside."
Four years after buying the trunk, Mrs Grant had builders in and wrenched open the box with a crowbar.
Inside she found a purse of gold coins, a diamond brooch and a three-stone diamond ring, items that are mentioned in Agatha Christie's biography as pieces earmarked for her and her sister Madge.
Mrs Grant said: "I had read Agatha Christie's biography and so I knew exactly what I was looking at.
"They matched the description exactly, I was nearly hyperventilating."
Now the jewels are to go under the hammer at Bonhams in Knightsbridge with the brooch offered at between £6,000 and £8,000 and the ring offered at between £3,000 and £5,000.