Brighton councillor breached code over 'hired killers' tweet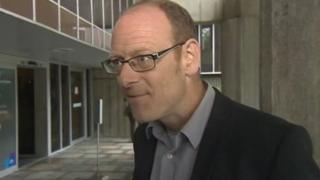 A Brighton councillor who referred to the armed forces as "hired killers" has been found guilty of two breaches of the authority's code of conduct.
Councillor Ben Duncan also tweeted his daughter could be "stoned to death" for pressing flowers in a book about Islam.
The council's standards panel formally censured Mr Duncan and recommended he be removed from his position as deputy chairman of the licensing committee.
But Mr Duncan said he stood by what he had said about the armed forces.
He has also said he would appeal against the decision.
"When I used the word hired, I was obviously referring to the fact that they were paid," he said.
"When I used the word killers I was reflecting upon the ultimate purpose of the armed forces job, and I believe that their job is ultimately - in the interests of the state, when necessary and when ordered by a superior officer - to kill.
"I do therefore believe that members of the armed forces are hired killers."
'Freedom of expression'
On 16 June, Mr Duncan tweeted: "Blasphemous 7yo wants 'Islam book' to press flowers in (it's big and heavy). Should I stone her to death when I get home from work?"
And on 28 June, he tweeted: "Armed Forces Day has certainly brought the hired killers onto the streets of #Brighton today. Hard to explain to my son."
In July, he apologised but was thrown out of the local Green Party.
He was charged with two counts of breaching Brighton and Hove City Council's code of conduct after the authority received about 60 complaints.
During the hearing on Monday, Mr Duncan argued the council's code of conduct should not take precedence over his freedom of expression, guaranteed in the European Convention on Human Rights.
But the council ruled that in both tweets he "did not treat others with respect" and he conducted himself in a manner which could "reasonably be regarded" as bringing his "office or authority into disrepute".
Mr Duncan was asked by panel member councillor Leo Littman whether in retrospect it had been wise to publish either of the tweets.
He replied: "It has led to a series of events which has seen my removal from the Green Party and I am now unemployed.
"In retrospect I would not want to have seen any of that happen."
The tweets in June were not the first time Mr Duncan, who stood as the Green Party's candidate in Brighton Kemptown in the 2010 general election, has been in trouble for his use of social media.
In May 2012 he apologised after he tweeted: "I only smoke weed when I'm murdering, raping and looting."