University of Sussex student raped in hall of residence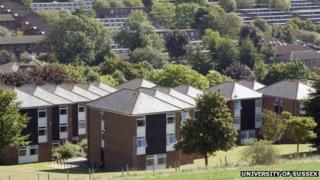 Police are hunting for a rapist who attacked a woman after following her into her room on the University of Sussex campus.
Officers are speaking to students and reviewing CCTV footage.
The 20-year-old student was followed after she had been outside the hall of residence drinking with friends.
It is not known whether her attacker was a student. He was described as being black or mixed race, aged 19 or 20, and he spoke "broken English".
The attack took place at the campus in Falmer in the early hours of 20 September.
The victim reported it to medical staff at the university, who contacted police on 24 September.
'Doing all we can'
Sussex Police said officers had spent the last week searching for the offender. They have just released details of the rape.
Det Sgt Simon Dunn said: "The victim is understandably very shaken by what has happened.
"We urgently need to trace the man involved and to speak to anyone who was on the Falmer campus late on Friday night or early on Saturday morning [19-20 September]."
A spokesman for the university said: "Our first thoughts are with the woman who was attacked. We are appealing to anyone with information to share it with the police.
"We are doing all we can to support the police, including making available all CCTV footage and contacting students who are resident on campus to appeal for information."